This summer we began selling our wood-fired personal pizzas at Bryant Park's HBO Film Festival. We never expected such an overwhelmingly positive response! Friends of an Artistic Taste helped construct this beast of an oven that pushes out 300 pizzas a night!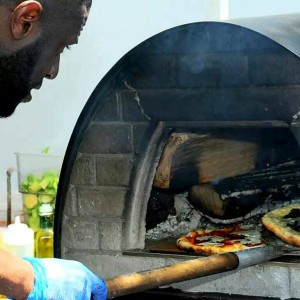 Our Signature Personal Pies are a crowd favorite its hard for our Pizza Guru to keep up with the demands! As he tosses our hand-made chewy dough in the air, crowds form to see him in action!
We sell out of our "Bomber" pizza pretty early, with fresh mozzarella, caramelized onions, spicy pepperoni, topped with special blend of spices. But don't despair! We have several other choices to please every palate and hungry tummy!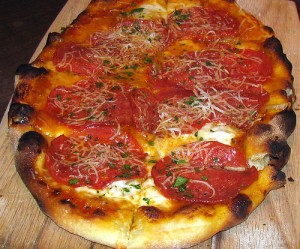 Pizza Menu
Classic Tomato | Fresh Mozzarella – Fresh Basil – Classic Tomato Sauce – Truffle Oil
Bomber | Caramelized Onions– Spicy Pepperoni  – Fresh Mozzarella
Brooklyn Bomber | Caramelized Fennel – Italian Sausage – Sweet Bell Peppers
Fig and Prosciutto | Fig Jam – Prosciutto – Gorganzola
BLT | Bacon Jam – Cloth-bound Cheddar – Heirloom Tomatoes – Romaine Lettuce
Parties or Events
Enjoy any one of our menu items at your next party or event! Chef Andre sets up this classic stone oven front and center to delight your guests.
For more information RE: parties or events email: booking@anartistictaste.com